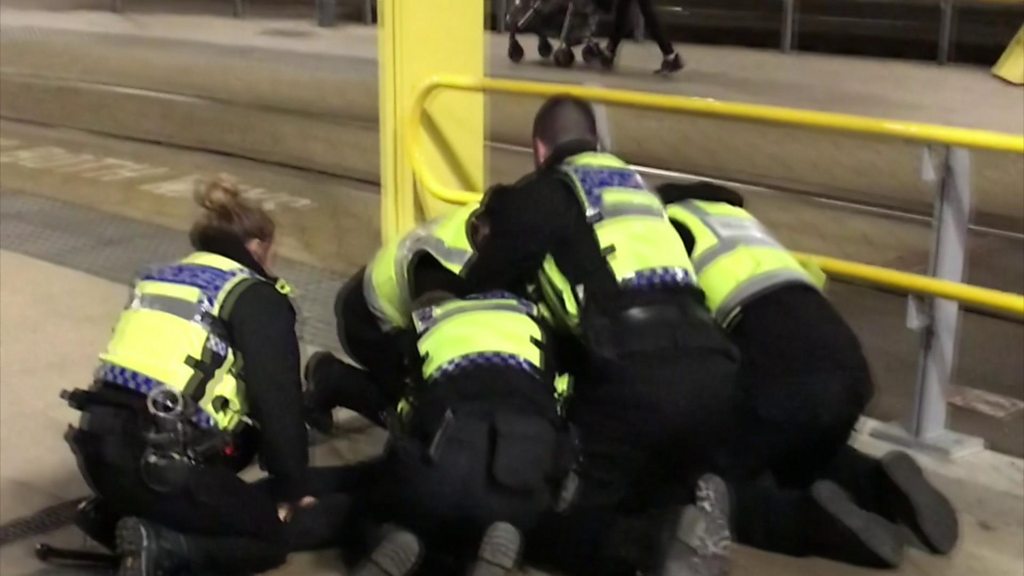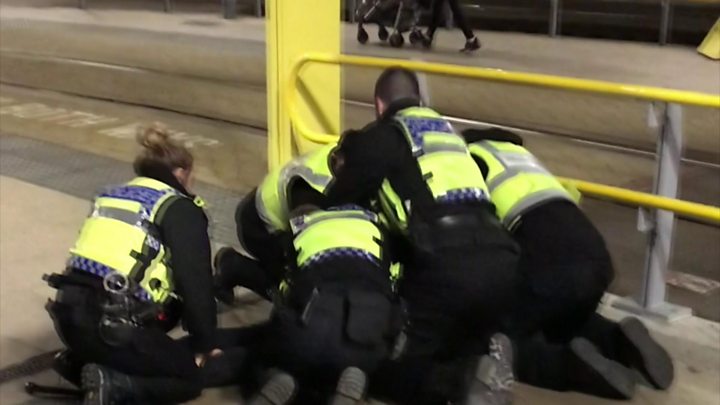 A man who launched a frenzied knife attack at a railway station has admitted trying to kill three people, including a police officer.
Mahdi Mohamud, 26, stabbed and slashed at a couple and then attacked Sgt Lee Valentine at Manchester Victoria railway station on New Year's Eve.
The couple's injuries included a punctured lung and a skull fracture.
Mohamud pleaded guilty at Manchester Crown Court to three counts of attempted murder and a terror offence.
He admitted possession of a document or record likely to be useful to a person committing or preparing an act of terrorism and will be sentenced on Wednesday.
The court heard Mohamud, of Cheetham Hill in Manchester, walked up behind a man and a woman in their 50s shouting "Allahu Akbar" and "Long live the caliphate" as they headed for a tram platform shortly before 21:00 GMT on 31 December.
He stabbed the man repeatedly in the back, shoulders and head and then slashed the woman across the face after the couple randomly crossed his path.
The man suffered 13 injuries including a skull fracture while the woman's right lung was punctured and she suffered a slash to her forehead that cut down to the bone.
British Transport Police officers and tram staff confronted Mohamud, who witnesses said was "like an animal" and was "fixated" on stabbing and slashing.
Sgt Valentine, 31, shot Mohamud with his Taser but the barbs got stuck in the knifeman's coat and failed to paralyse him.
The sergeant was stabbed in the shoulder before the suspect was wrestled to the ground and arrested.
Sgt Valentine said Mohamud was "dancing around, waving this knife around" before he started to run at the officers.
"He probably closed a seven foot gap in half a second," he added.
"It was just like a dive, he flew, he probably jumped three or four foot off the ground and just sort of lunged, probably lunged at my head with his knife."
A second kitchen knife was found in Mohamud's waistband.
Greater Manchester Police said officers recovered a large amount of "counter-terrorism mindset material", including images and a document about how to carry out knife attacks.
The defendant, a Dutch national from a Somali family, had arrived in the UK aged nine and became radicalised online, the force said.
Mohamud was sectioned under the Mental Health Act following the attack and taken to a secure mental health facility where he is currently detained.
Prosecutor Alison Morgan QC said: "The prosecution's case is that the attack at Victoria Station was not simply a product of that mental illness.
"It was intended to be a lethal attack, carefully planned over a number of months, reflecting the defendant's extremist ideology and his desire to perform violent jihad.
"The defendant's actions may have been disinhibited by his mental illness, but they were driven by an entrenched desire to undertake jihad against the West."